It seems that the blazing hot air of Summer and severe weather at project sites enhance the engrossment without tiredness in working of labourers from Lilama Engineering Mechanical JSC (LILAMA EMC). Together with the construction equipment and machineries which are now displaying their max capacities, all projects are coming to destination (the accomplishment stage) in accordance with the undertaken schedules with assured quality, satisfying their partners & customers.
Taking initiative in grasping new technologies
In the construction site of Huong Hai calcification manufacturing plant (Le Loi commune, Hoanh Bo, Quang Ninh), there are hundreds of workers and engineers of LILAMA EMC who are deploying to perform the project. The production line with new technology, new design cannot make difficulties for them at all, vice versa, it becomes the motivation to help them approach, grasp and master the technology so as to deploy manufacturing, installing equipment and finishing the project in time (in accordance with the undertaken schedule).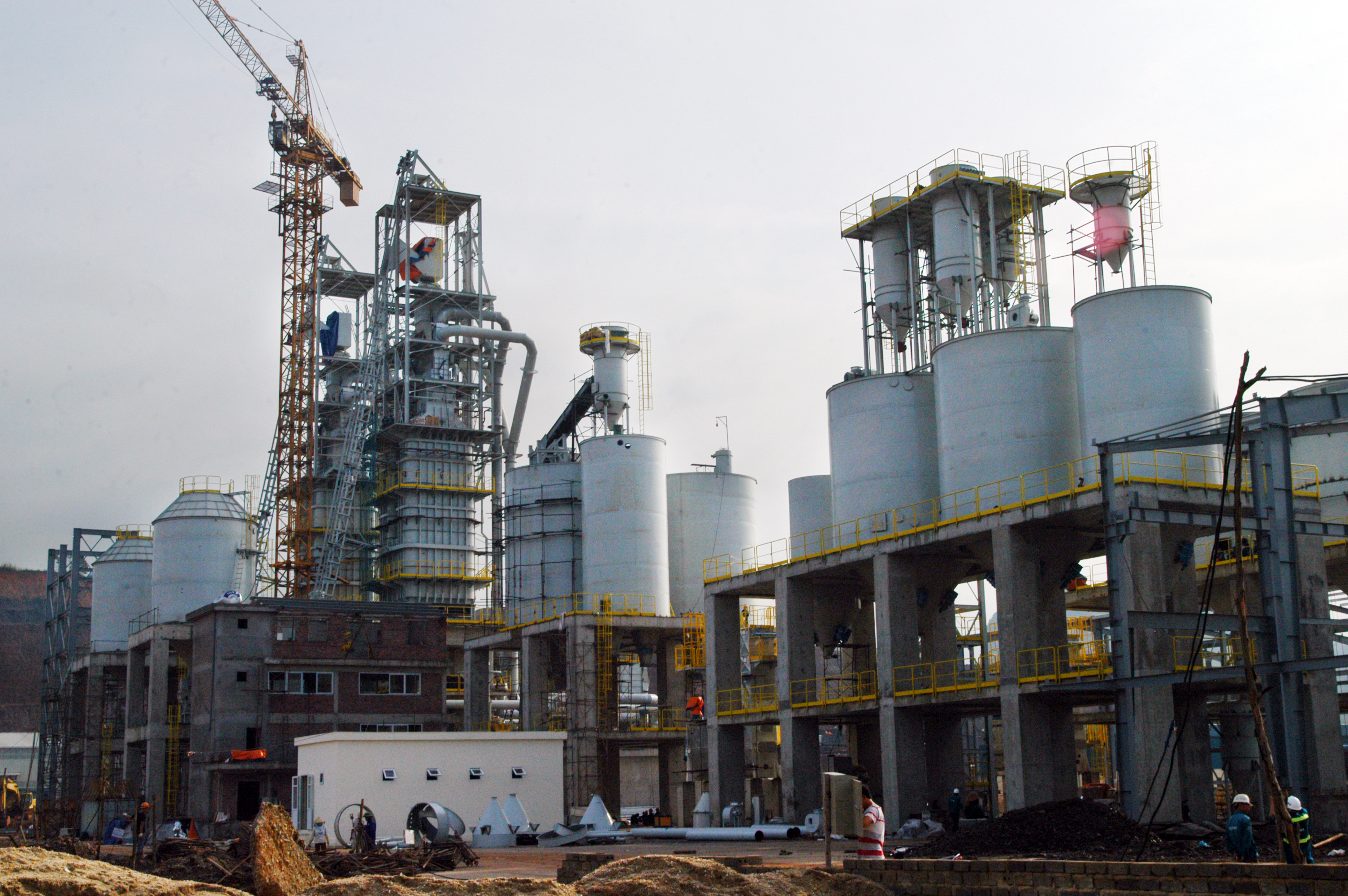 Huong Hai calcification manufacturing plant project
This is one of the first calcification manufacturing projects in our country and its Owner is Huong Hai Group with the total investment of more than VND 2,000 billion. Some products of the plant after accomplishment will be light powder, super-smoothness stone powder which will be used in many high technological branches, and so the value of products made from limestone will be much enhanced in comparison with the traditional ones. Up to now, at the first stage of the project, about 90% of the construction & installation work volume have been finished and as anticipated the plant will be put into operation in the end of Quarter III/2015.
At a working place in the construction site, while calibrating equipment with concentration, Mr Pham Quoc Hung, a long-term experienced technician of LILAMA EMC said happily "Although the weather this season is very hot, even on some days the temperature outside is upto 41- 42 degrees Celsius, we, the machinery installer are so familiar with sun & wind of construction sites, all of us encourage eachother to raise the labour productivity, improving our incomes as well as finishing our duties early".
Present at site to directly guide the performance work, Vice General Director Nguyen Van Huan said "LILAMA EMC is the Main Contractor who has undertaken to manufacture and install most of the mechanical & electrical (M&E) equipment of the plant with the total contract value of upto more than VND 60 billion, including 1,400 tons to be manufactured inside the country and about 3,000 tons of M&E equipment to be installed. Up to now, because of the close, harmonious coordination between Contractor & Owner, all the equipment manufactured by LILAMA EMC have been finished with assured quality, satisfying the schedule to serve the installation work. Although the production line is new, modern, with the effort and concentration of the collective of staffs in working, all important phases of the project have been completed basically. In the coming time, Furnace 1 will be put into use, then Furnace 2 will be finished in accordance with the schedule committed to Owner".
Affirming the position
Not only in the calcification project in Quang Ninh, but also in Nghi Son oil chemical refinery project (Nghi Son Economic Zone, Tinh Gia, Thanh Hoa) LILAMA EMC has more than 300 staffs who are now organizing to manufacture and install Reactor (weighed more than 547 tond), crude oil tanks & vessels (each one is 2,200 tons heavy, and about 89m in diameter), manufacture 87,000 ID, manufacture & install pipelines, steel structures and more than 4,000 tons of equipment...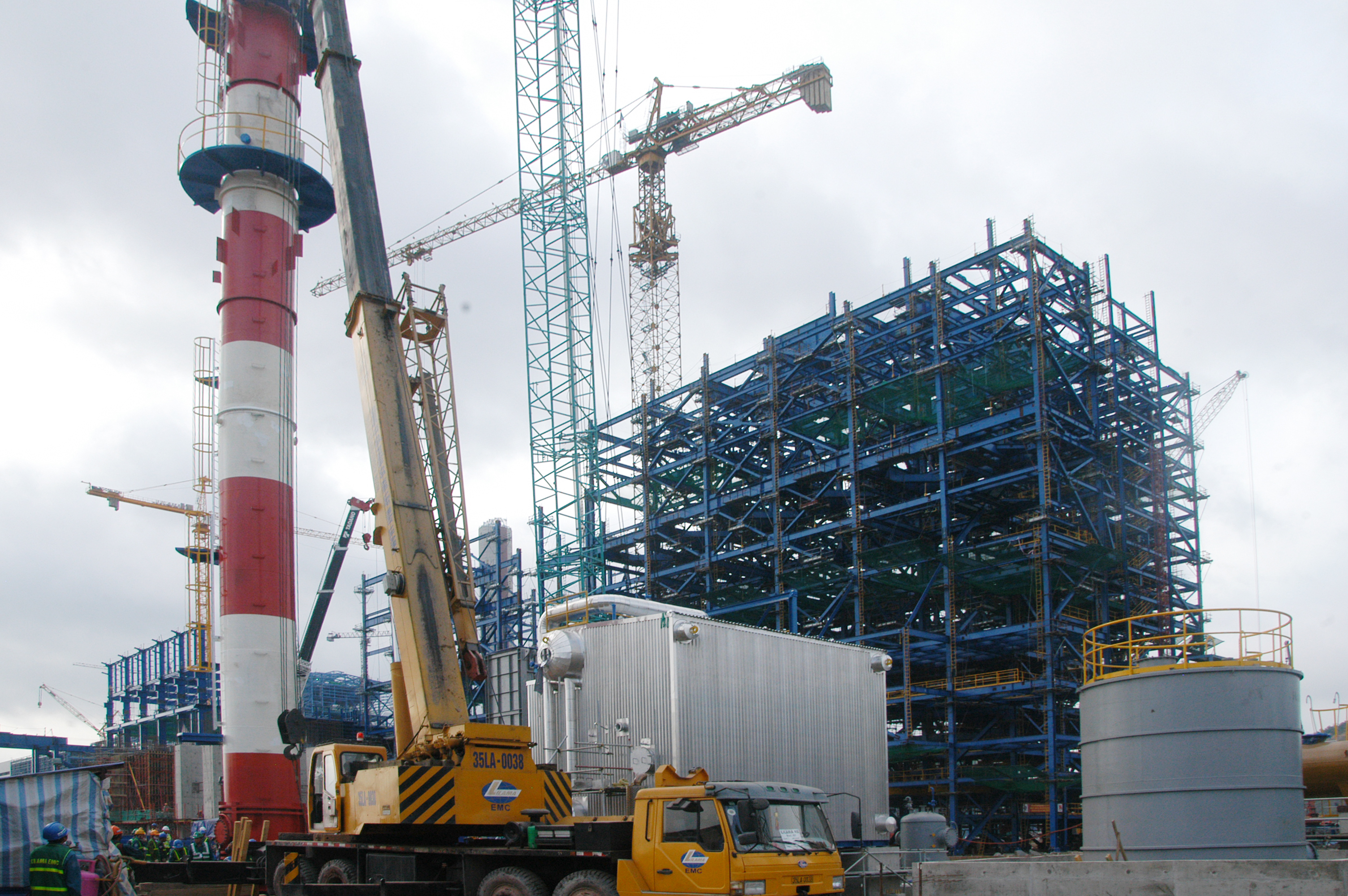 Performing Mong Duong 1 thermal power plant
Chief of production of LILAMA EMC in Nghi Sơn, Mr Vu Son Lam said "The project performance work have strict requirements of schedule and product quality as well as other requests, and it needs advanced & synchronous facilities, especially, each engineer must have good qualifications, each worker must have good skills and they all have professional style of work so as to meet those requirements".
To encourage labourers, beside the high wages to be paid on time, the Company leader board in coordination with leaders of production units & trade union always pay much attention to them, remind each worker to obey labour regulations and invest more in infrastructures to improve the living standards & working conditions for labourers at site. "Up to now, all the work of manufacturing & installing equipment, tanks & vessels, technological pipelines, steel structures are being performed ahead of schedule as committed to LILAMA Corporation. For the time being, the items undertaken by LILAMA EMC have achieved more than 50% of the work volume. We are striving for finishing all items in the end of year 2016 as per the project schedule", affirmed Mr Vu Son Lam.
Continuously taking innovation to be steady for integration
In 2014, although there were many difficulties in social economic condition, LILAMA EMC still grew, the finance was relatively steady, the jobs & living standards of laboures were improved continuously. Particularly in 2014, the Company turnover achieved 137% of the plan and equivalent to 139% in comparison with year 2013; all items of profit, average income, state budget payment surpassed the ones in the plan. The ability and position of LILAMA EMC have been asserted and high appreciated by their partners, Owners through such projects as: Mong Duong 1, Mong Duong 2 thermal power plants, Vung Ang 1 thermal power plant, Dong Lam cement plant, Formosa – Ha Tinh, Quang Phuc, But Son, Tam Diep cement plants...
In the general trend of international economic integration, with requirement of continuous innovation to develop, all the Company leaders are unanimous and determined to re-organize their enterprise in all aspects according to the orientation of LILAMA Corporation so as to enhance their ability of competition in the market and develop strongly, steady for integration.
Việt Cường - Hoàng Anh