Today 22/5, in Nghi Son oil chemical refinery project, Lilama Machinery Erection and Mechanical Company (Lilama EMC) in coordination with Nippon Express Co. (NEX) has conducted to install 02 Reactors of Package SPM4 (AE00) with total weight of approximately 900 tons.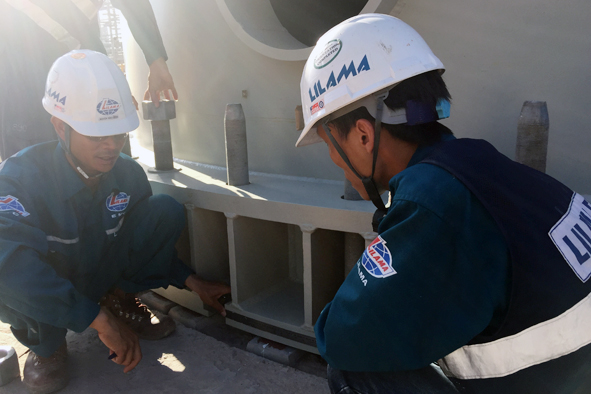 Lilama EMC engineers were calibrating the Reactor equipment
According Mr Vu Son Lam – Chief of Lilama EMC at the project site, in this item, Lilama EMC coordinated with NEX to install, calibrate equipment and help NEX during the process of installing 02 Reactors; Reactor 101 (weighed 340 tons with the height of 25m and diameter of 5.3m) and Reactor 102 (weighed 540 tons with the height of 35m, diameter of 5.2m). The installation has been done with 02 cranes of 1300 tons and 800 tons transported from foreign countries. After successfully installing the 02 Reactors, Lilama EMC continued to install the auxiliary items of these equipment, install steel structures and technological piping system around the equip.
Reactor is an equipment system to realize chemical reactions so as to create products of a production process, and that is why it determines the productivity and effectiveness of oil chemical refinery plants.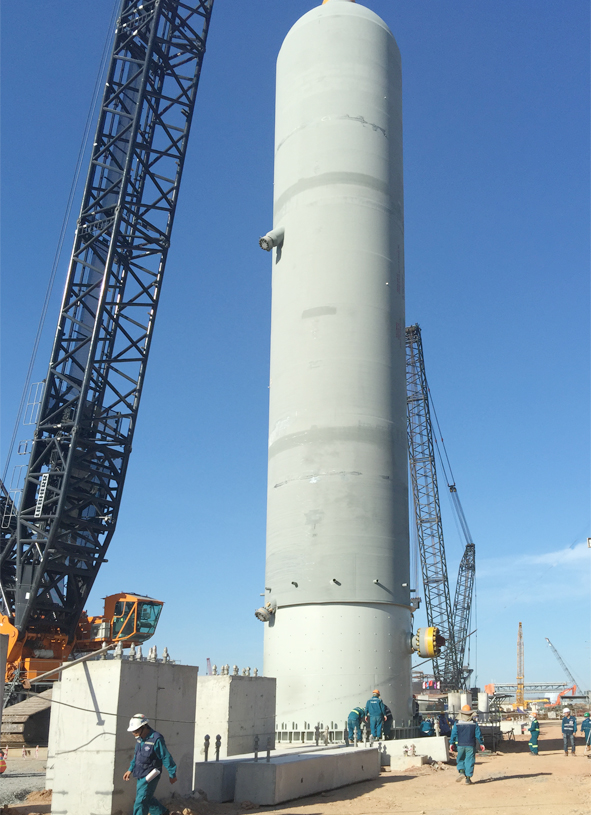 Reactor 102 has been put into its installation safely and exactly
Due to the late handing-over of the performance area and equipment by Owner, to assure the schedule,
Lilama EMC is now concentrating to install 02 crude oil tanks with total weight of 4,300 tons; as anticipated, the pressure tests of tanks will be carried out in turn by Mid August and December 2015. Up to now, Lilama EMC has finished installing 23,400 ID of pipe equivalent to 26.6%, installing 2,300 tons of tanks equivalent to 54.1%, and the work of manufacturing and installing steel structures and equipment is being deployed actively at the moment.
In the Nghi Son oil chemical refinery project, LILAMA EMC is responsible for the main work volume including installing 1,116 tons of steel structures, installing 3,789 tons of equipment, installing 41,373 ID of piping for Package SMP4(AE00,) manufacturing 87,985 ID of pipes and 104 tons of piping supports for Package SMP4 (AD00 & AE00), installing 02 tanks of crude oil with total weight of 4,252 tons.